Posted on November 16th, 2011 by Jean
The title says it all. I did have an incredible day in Vegas yesterday. My girlfriend, Wendy, was in town celebrating her 10 year wedding anniversary, and invited me over for a day of play. I thought it was awfully generous of her and her husband to allow me to invade their celebration.

I picked her up around 11:30am, and we headed to Tommy Bahamas Restaurant at Town Square. On the way, we spotted Big Bird at the Welcome To Las Vegas sign! Neither of us having been to the sign, and knowing our young daughters would be thrilled to see us with Big Bird, we pulled in and parked. Big Bird works for tips, his hand magically appearing from a hole beneath his tie. I slipped BB two bucks and we were golden. Two photos each. Then we made our way to the famous sign, and Wendy asked a nice man to take our photo. He did, and invited us back in one hour to be in a music video. Hello! Sign us up!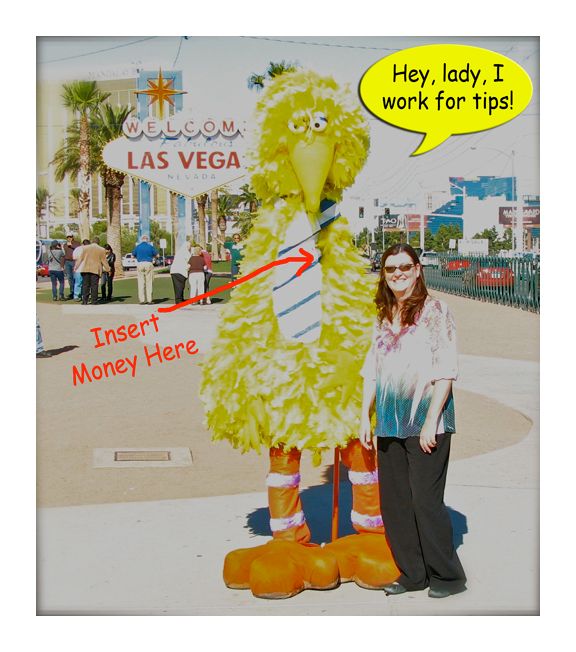 We hurried over to Tommy Bahamas for cocktails and appetizers. Our bartender concocted two special drinks for us, one with passion fruit and the other with cucumber and pineapple. Both were delicious! We also had crab bisque (to die for), and some kind of shrimp dip with chips (not the greatest).




We caught up as it had been a year since we saw each other, and the bartender brought us over two more specialty cocktails. Then our bartender disappeared, overwhelmed with a banquet in the back room. So much time passed that we gave up ordering dessert and considered "dine & ditch". We were planning our escape when Wendy decided to give one final attempt to pay our bill. She began waving her arms around as if directly a large plane into takeoff position. It got people's attention alright! A hostess came over to see what our problem was, and had the bartender ring us up. Mr. Bartender became a hero when he didn't charge us for our drinks, only our appetizers. Thank you, dreamboat!

We were thirty minutes late to the video shoot, and hurried over to find parking. The production team was still setting up, testing audio equipment and who knows what else, for at least another hour. Finally we were asked to take our positions around the piano, the star, Frankie Moreno, and the bassist. The director asked us to sway and bop enthusiastically, to which Frankie added, "Act like you like my music. If you can't do that, get the fuck out of here." With his handsome looks and New York accent, we all took his advice with a laugh.

Action! The camera was rolling, Frankie was tickling the ivories and wailing out a tune much like Harry Connick Jr but cooler. We were all swaying, clapping hands, and getting into it. Frankie finished his song, and had to perform it again. The camera man moved to a new angle capturing Frankie from head on (with Wendy and me directly behind him).

The director asked us to move closer to Frankie with some of the women leaning on the piano. Two retro/pin-up looking girls leaned on the piano, and a grandmotherly type woman was next to them with a cotton ball taped to her arm. Just gave blood? A girl in purple joined our group, but had a sour look on her face like she was smelling something awful. A butter-faced woman in a green sweater, no pants, and tan boots was asked to stand in front of the bassist. She worried about blocking his view, not realizing she was the view. LOL! Two sweet elderly couples were next, with Wendy and I rounding out the group. The director asked us to look at Frankie as if we wanted him, but couldn't have him. I stared as if his was the sexiest nape I'd ever seen. Oooh, look at the clean-cut neckline! I licked my lips and batted my eyes a few times, just for good measure. I hope I don't hit the cutting room floor.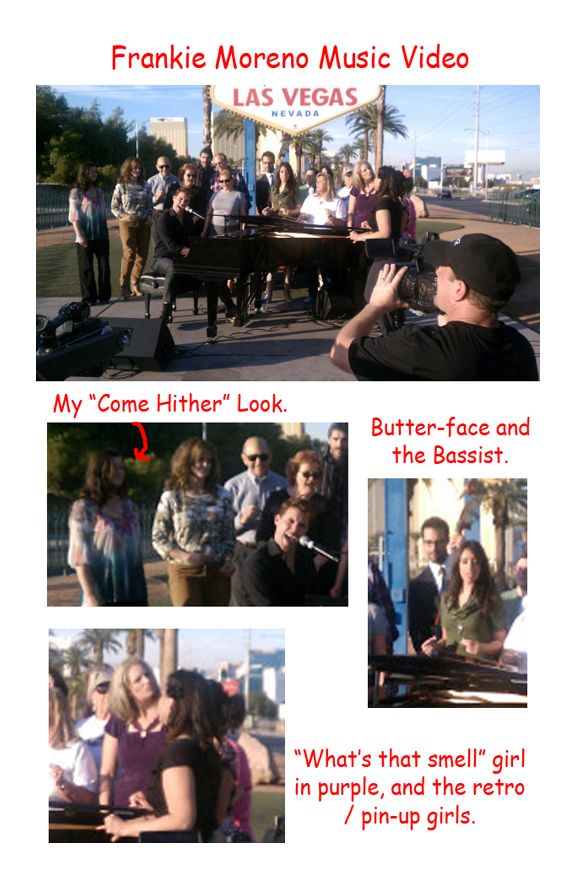 Frankie sang two more tunes, twice, and it was a wrap. Then he asked his marketing director, Sasha, if he could play a song just for us. She agreed, and he REALLY got into it! He hammered those keys like I'd never seen! Wow, we were really dancing now, no acting involved. Just pure enjoyment. His camera man rushed up with the camera, zooming in and out on Frankie, on us, on the keys, on us. What a video this will be! I'll leave room for it right here (below).



Wendy and I posed with Frankie for two photos. (I"ll post those too once Wendy gets home and can download her camera.) What a doll he is. If you're going to see him, he performs at the Stratosphere. Go, go, go!




How do you come down from that high? We decided we needed more cocktails and dessert. We drove to Caesars, and checked out the new chocolate restaurant, Max Brenner.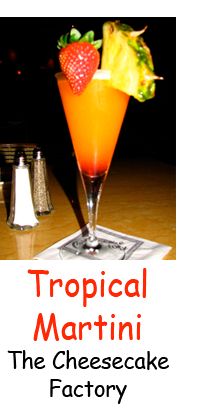 Oh Max, $12.50 for a margarita? We didn't even see dessert on the posted menu, but a banner across the top of the display said something like, "Food First, Dessert Next". Hmmm… we kept walking. The kiosk bar with yard-long cocktails also had mixed drinks for $12.50, frozen drinks for $14.00. Really? Ice costs that much more? Rip-off. Kept walking. Finally saw The Cheesecake Factory! Yes, let's get some drinks and dessert. That's what we came for, that is what we shall have. The tropical martinis were fabulous, and deep-fried avocado appetizers were amazing, and the red velvet cheesecake was orgasmic. Thank you to our server for telling us we didn't both need a slice. He was right, and we thanked him for watching our wallets and waistlines.

With the day drawing to a close, we walked out into the crisp night air and over to the Bellagio gardens. Decorated for fall, they were (as always) a sight to behold. Pumpkins, scarecrows, corn stalks and the like filled the atrium, and we tried to photograph as much of it as possible. Then we made our way back to my car and finally to her resort. I hated to see the day end.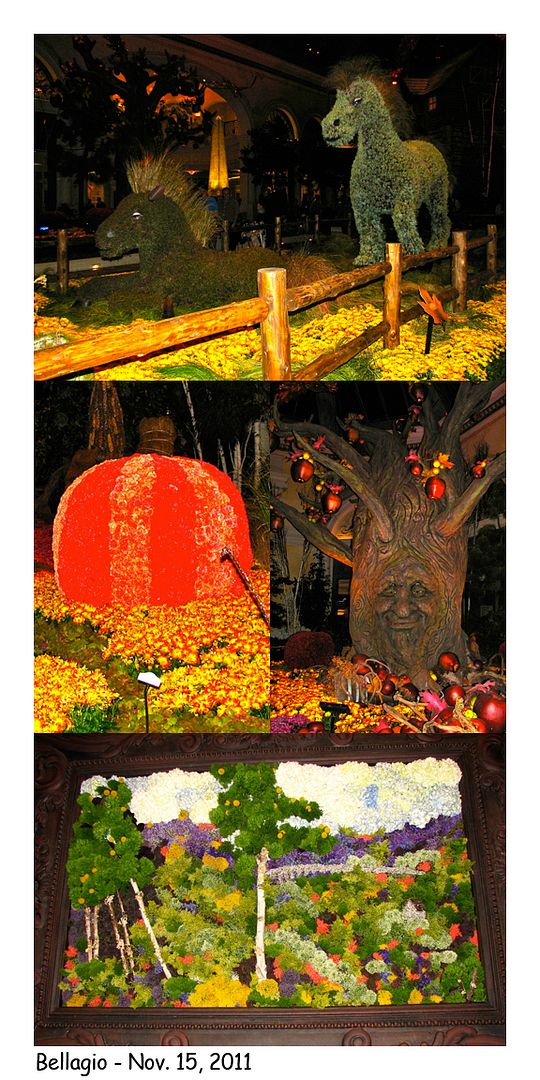 • Do you believe in the slogan, "What happens in Vegas, Stays in Vegas?"
• Would you have swayed and bopped to the music?
• $12.50 for a cocktail. Discuss.
Tags: Bellagio, Caesars, Cheesecake, cocktails, dessert, forum, Frank Moreno, Frankie, friend, Las Vegas, music, Stratosphere, Tommy Bahamas, Vegas, Video