Posted on February 29th, 2008 by Jean
I'm so old, I still have Disneyland B Tickets.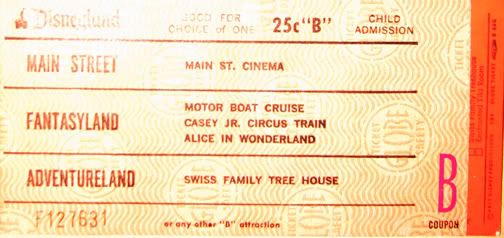 Have you heard of an E Ticket Ride? Well, that'd be an Exciting one.
I have the Boring B tickets.

I'm so old, I remember when stewardesses (yes, they were called that) wore *hip* outfits like this: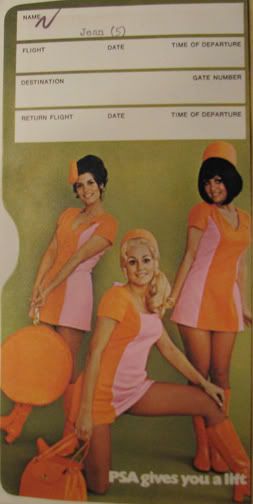 I was born June 13th 1965 in San Pablo, California.




Aside from my birth photo, this is the oldest picture of me (age 2) in my parents album.

My Dad was a salesman for AC Delco, and my Mom was a housewife.




I have one brother (James) and one sister (Sunny).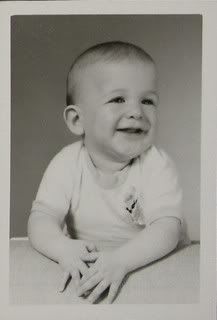 My parents rented a house from my paternal Grandparents.



Louise & Manuel's 50th Wedding Anniversary ~ 1970

My Dad's parents came to the USA from Portugal. They were in an arranged marriage.

These are my maternal Grandparents, Gene & Clara.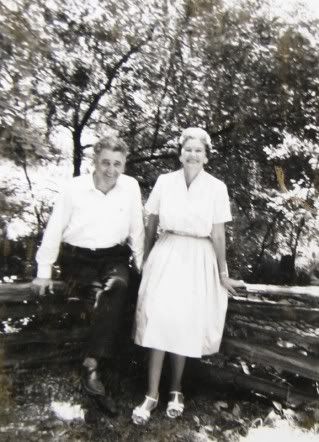 My Mother's parents were from Missouri. They traveled to California to raise their family.

As a child, I really had no extracurricular activities. I didn't participate in any sports. Just lived a quiet, hermit-like life with my family.

As I was lying in bed last night, I realized something. My parents had no friends. No one came over to visit. We would, on occasion, visit Grandma Clara. The adults would play pinochle. Once in a blue moon, we'd visit my Dad's parents. There was a bit of difficulty communicating with them as they mostly spoke Portuguese. There was definitely a feeling of seclusion.

Here are some photos of me from my early school years, ages 6 through 10.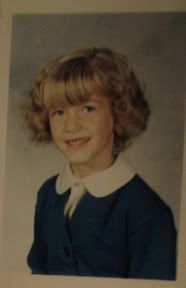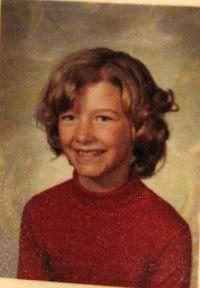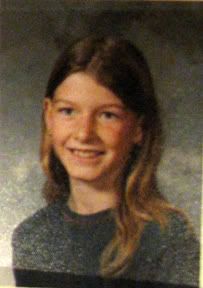 When I was in the 6th grade, my family moved to Reno, Nevada. This was during those awkward teen years.



Yes, full head gear.

By the time high school rolled around, I was out of braces.



The eyebrows were plucked and the hair lightened too.

In High School, I was allowed more freedoms. My best friend had a car, so we were able to go to the Keystone Theatre which always had the most unique movies.




We participated in Debate and Drama, so finally extracurricular activities for me.

I wasn't allowed to date until I was 16. I dated a few different guys, had maybe 3 boyfriends tops.

After graduating in 1983, my parents moved us back to the Bay Area of California. There was no time to sit and mope about the loss of my friends and the town that I had enjoyed spending my formative years in. Time to get a job.

I applied at the local mall, and was excited to become a sales person for Jean Nicole, a women's clothing store. I wasn't there long before my father managed to get me a job at a local bank. And thus began my 14 year career in banking.

When I turned 21, I met the man who would become my first husband. My girlfriends, whom I worked with at the bank, and I would go club hopping each weekend. At one of these clubs, I spotted him. An El DeBarge wannabe (he'd be the white version though).




He had all the Michael Jackson moves down pat.



I saw him strike this pose a few (hundred) times.

Against my parents' wishes, we moved in together. For an entire year, he'd set the date for our wedding, and then cancel. He finally told me he had no intention of marrying me. He just liked how happy it made me when he'd set a date. I moved back in with my parents.

The next evening, New Year's Eve as a matter of fact, he came to my doorstep and we drove to Carson City, Nevada to get married. No one from my family accompanied me. His grandparents were our witnesses.

Three months later, he wanted out of the marriage. It was like a noose around his neck, he said. He told his family we were through, and when I reached out to them, they told me to face facts that it was over.

I was humiliated. I did not want to return home. I did not want to go to work. I ended up sleeping on the couch, in the same apartment with him. Signs that he was dating were evident.

I changed jobs so I didn't have to face my customers who thought I was still a newlywed. My life was falling apart.

My Life ~ Part 2