Posted on March 30th, 2008 by Jean
My Life ~ Part 1
My Life ~ Part 2
My Life ~ Part 3
My Life ~ Part 4

I want to thank all of you who reached out to comfort me after I posted Part 4. I thought I could just *talk* about my life, and not be affected by emotion. But, well, that wasn't the case. Thank you.

My Life ~ Part 5

I had just started a new job as a typesetter for a publishing company. I also had just been given the news that my In Vitro Fertilization had failed. That devastating loss was the straw that broke the camel's back. I turned to one of my bosses for consoling. Tom. Yes, my Tom. We fell madly in love.




The thing about love is, baby makes three.




I know we didn't do things in socially acceptable order, but we did get things done. It was a long process, clearing the way for our love.



Wedding Night 2003

We moved in together. George filed for divorce. Tom and his business partner reached an agreement on how to split their assets. Yes, there was a LOT of drama. The police were involved: George pulled a gun on me when I told him I was leaving. The courts were involved: Natalie had to go through DNA testing to prove Tom was her father. Her birth certificate had to be corrected because, in the state of Arizona, your husband (who was not the father) must go on the certificate. We were tied up in the courts for several years just straightening that out. Tom bought his partner out of the business, and April (2008) marks the 1st time in 5 years that we are free & clear of that debt.

Tom and I were married in December of 2003, and Pearl was born in December of 2004.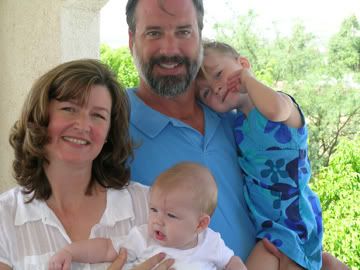 We continue to love eachother and live in happiness with mutual respect and adoration.




We two middle-aged adults have been given the opportunity of a lifetime, to be parents at long last!




Maybe that's why we spoil them, because we waited so long for them to enter our lives.




All I know is that I've never been happier. I feel so blessed!

So please remember to never give up. Life is a long journey, with many ups and downs. I'm grateful to have gone through the lows so I can so appreciate the highs.

That concludes My Life series. Thank you for hanging in there when I never even knew how I was going to put this into writing. Sorry to have glossed over the low-lights of this blog, but I cannot put myself into that black hole again at this time. I want to think of the positive, and move forward. If I can help anyone in any way with further details of my story, please do not hesitate to contact me.

Thanks for reading!