Posted on July 15th, 2011 by Jean
On the second day of our San Diego vacation, we visited Sea World. Sweet ticket deals are available on their website.

We entered the park at 9am and made our way to the Dolphin Encounter. The trainers were whistling, making arm movements, and sending the dolphins from one side of the tank to the other. We enjoyed watching the dolphins, and felt such joy just being in the park.




As we left the dolphins, we ran into some Sea World mascots. It took a lot of coaxing before our youngest agreed to stand near the penguin with the creepy eyes. Too bad we didn't see the super-cuddly & cute Shamu mascot.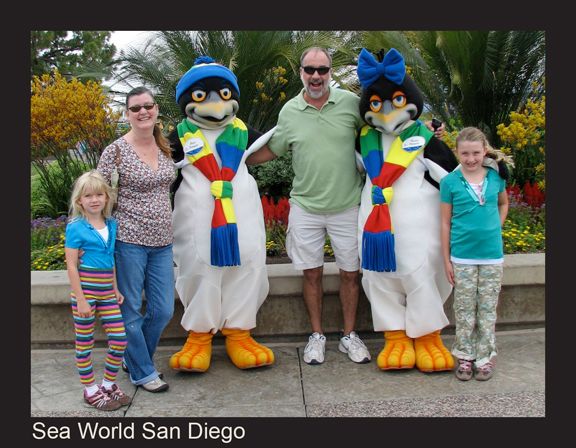 Making our way to the park's Sesame Street Play Zone, and we rode all three kiddie rides.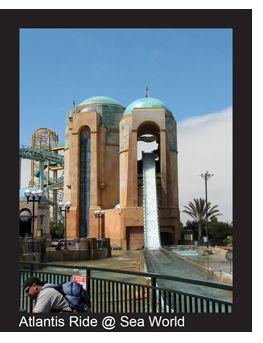 Now we were ready for a thrill, and headed to Atlantis, the water roller coaster. It turned out to be a little too intense for our oldest daughter. There's an elevator that the roller coaster cars enter to be brought up the tower for another drop. It was very loud and dark in there, which sent our daughter into a panic. With tears streaming, she finished the ride, only to find out the ride broke down. We were stuck in our seats for about ten minutes until employees made their way to us and released the seat-bars holding us in.

Finally free, we sat on a nearby bench. Hubby and youngest went in search of cotton candy to bring the smile back to our oldest's face. We sat, enjoyed the candy, and people-watched before entering the Arctic Zone. We passed the ride & movie portion, and went directly to the animals. The belugas had a baby one year ago, and it was just darling! The walrus now had 2 short tusks (3 years ago it had one long & one short).




Just found out some facts about the baby beluga. Her name is Pearl! Her adoptive mother is Allua.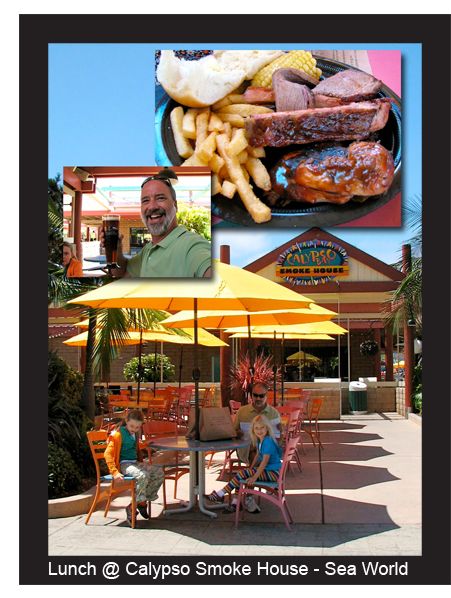 Next stop, the Calypso Smoke House for lunch! The kids had chicken & fries on commemorative Shamu plates, while hubby and I split a sampler plate. It was all delicious and worth every penny.

Now you'd think we'd be refreshed and energized after stopping for lunch, but quite the opposite happened. The kids started complaining that their feet hurt. Not wanting to leave the park just yet, we noticed a show was underway, and climbed the stairs to available seats. The show was called Blue Horizons, combining "sea & sky". We watched as costumed performers bounced like yo-yo's on wires. Tropical birds flew across the stadium, pilot whales and dolphins swam and leapt.




Trying to fit in one more experience prior to leaving, hubby took youngest on the Rip Tide ride while oldest daughter and I shopped for last minute souvenirs.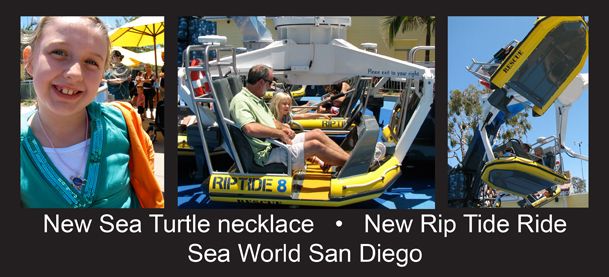 As we made our way to the exit, we heard barking – sea lions and seals. You can buy fish to feed to them. Some lay around, some swam, and others begged (barked) for food.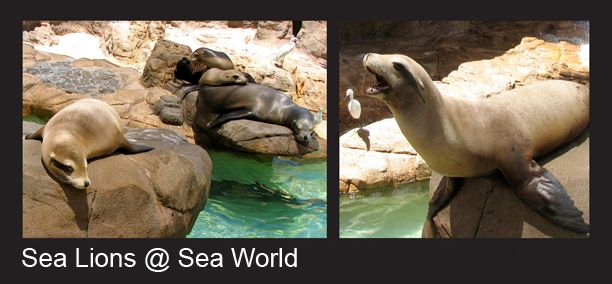 We were really dragging now, after just 3.5 hours in the park. We got our hands stamped just in case we wanted to return that evening, but for now we wanted to relax in our hotel room.

To be continued.

• How long do you typically last at a theme park?
• Have you ever been stuck on a ride?
• What is your favorite animal at Sea World?