Posted on October 11th, 2011 by Jean
Last night at the grocery store, stuck to the Beggin' Strips package, youngest daughter and I found a coupon for $1.00 off Frosty Paws – Ice Cream for Dogs! After the absurdity wore off, and we composed ourselves, we headed over to the frozen foods section and tracked down this new doggy treat.




We giggled all the way home with visions of offering hubby/daddy the doggy ice cream. Once in the door, we could barely contain ourselves. The dogs were happy to see us, and we were happy to peel the lid of the frozen concoction. Good thing hubby was doing chores and not sitting around waiting to be a guinea pig.

As the packaging promised, our dogs DID enjoy Frosty Paws! By the end, they were fighting over the empty cups, clearly jonesing for more.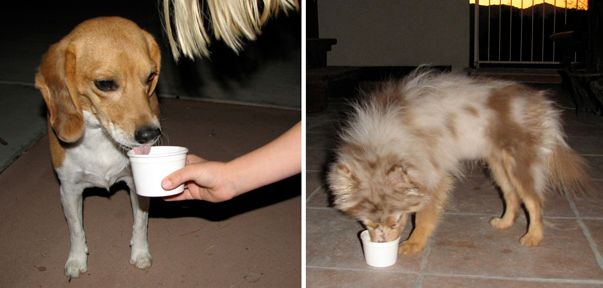 As a one-time novelty treat that the whole family should get a kick out of, I'd say go for it. The dollar off coupon helped sway my decision. But at over $4.00 per box, I doubt we'll indulge in the future.

Would you buy Frosty Paws for your dog?