Posted on May 17th, 2011 by Jean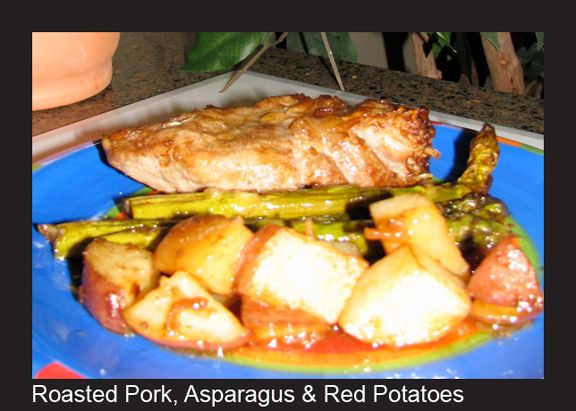 I have a quick, easy and delicious recipe for you tonight.

Ingredients
• 3 pork tenderloins
• 8 spears asparagus
• 2 red potatoes, cubed
• 1 packet Lipton Onion Soup Mix
• 1/4 cup olive oil
• Dash of garlic salt

1. Preheat oven to 375 degrees F.
2. Rinse asparagus; Snap off the tough ends.
3. Wash then cube the red potatoes.
4. In a large Ziplock bag, add the onion soup mix, olive oil, garlic salt, pork, asparagus and potatoes.
5. Seal the Ziplock bag, and shake to coat the ingedients.
6. Pour entire contents of bag into a large baking dish.
7. Bake at 375 for 40 minutes. Half way through the cooking time, flip the pork over plus stir the potatoes and asparagus.

Serves 2 adults & 2 small children.

We are really hooked on this recipe! The pork is so moist and tender. The asparagus and potatoes have great, crispy roasted flavor & texture.

What are your favorite Lipton Soup Mix recipes?
Tags: asparagus, cook, cooking, delicious, easy, hungry, Lipton, mix, onion, pork, potato, recipe, roast, soup