Posted on February 8th, 2011 by Jean
Helloooooo! I have been gone for far too long, and I've missed you. So much has happened in the past month, and what follows is the recap.


First off, our oldest daughter was finally accepted to a local, private school. She had been on the waiting list for four years, and being accepted was like receiving a golden ticket. You may or may not be familiar with the drama we experienced at Montessori, but we are pleased that she excelled at public school and made the transition to this private school with ease.

Our business is branching out. We will be unveiling a new publication in the very near future, and I cannot wait (but must wait) to give you a sneak peek! Stay tuned for that.

Everyone and his brother is sporting tri-colored hair in our town. Not that there's anything wrong with that. It's just, well, my wonderful stylist gave me that look three years ago. I loved it! I rocked it! I admit, I hadn't been doing much with my hair lately, even letting my sparkles (greys) shine through. But when I saw the town awash in this new trend, I felt it was time to head to Vegas for some much needed treatment.

I parked my butt in Brooklyn's chair and told her my dilemma. She recommended I try the ombre look. ::: Perk! ::: I'm all ears! Go on.

Ombre, as in dark roots, lighter ends. I love it! Now I notice others who are wearing this look.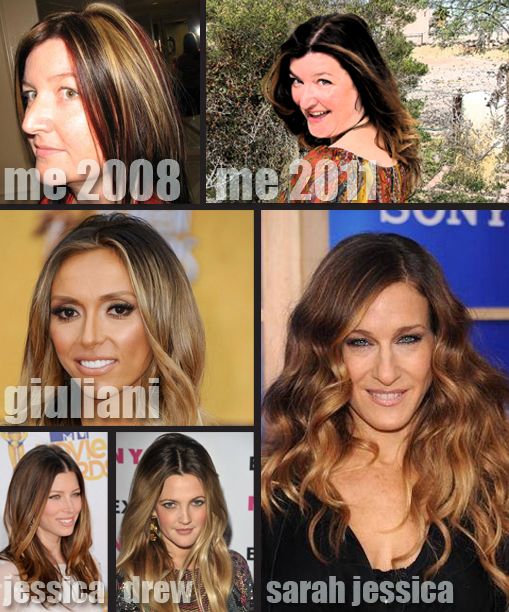 Are you watching American Idol? When my husband saw that Steven Tyler was a judge, he tuned it and is loving it. He cannot believe the size of the crowds, and wonders how they pack all those auditions into two days. This is only my 3rd year of watching, and I do like the chemistry of Steven, J.Lo and Randy.

The Super Bowl has come & gone. I didn't have a favorite team nor really a favorite commercial. Fergie's mic wasn't working very well, and Usher's pants were too baggy in the crotch. Shout out to my girl, Sherri, for dancing around with a box on her head. She rocks.

• Hair – what's your secret to looking so fresh?
• American Idol – why do you/don't you watch?
• Super Bowl – name your highlights and lowlights.
Tags: American Idol, Blog, Fergie, hair, school, Steven Tyler, Super Bowl, trend, update, Usher