Posted on September 13th, 2010 by Jean
On Friday Tom and I attended the annual Margarita Festival. One of our clients told Tom that when she googled "Laughlin Margarita", up popped my blog from last year. Thus, the blog for our business was born! I'll be posting stories of local events at Around The River Blogs, and thank all of you who have already checked it out.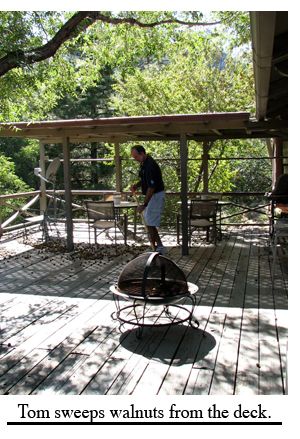 Saturday we drove an hour east to the Hualapai Mountains. Temperatures were much cooler; 78 degrees compared to the 100s we're still feeling at home.

One of our friends owns a cabin in the woods, and loaned us the keys. It felt more like a home, with large screen TVs, plush over-sized couches, a fireplace and pellet-stove, 3 bedrooms, 2 baths, and a sauna. Roughing it? Not hardly!

We vowed to plan better and actually spend the night next time. I can picture us roasting marshmallows in the little fire pit out front.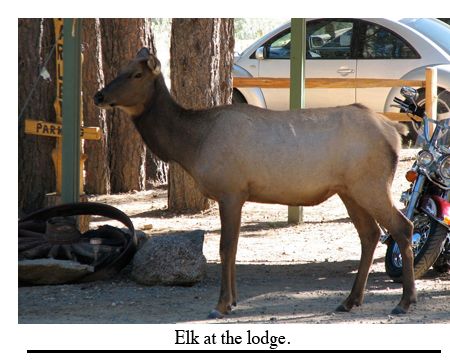 After checking out the home, we hiked to the lodge about a mile up the road. We sat on the deck enjoying cold bottled water when a large, female elk caught Tom's eye. She had just wandered into the parking lot, making herself at home next to a motorcycle. We heard her mew a few times, then just as quickly as she had arrived, she disappeared back into the forest.

On our hike back to the cabin, we stopped to sample some paddle cactus growing wild. Tom sliced it with his knife, and scooped out the contents. It has a watery consistency not unlike watermelon, but not sweet.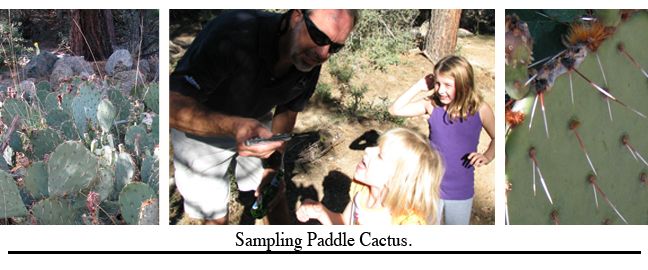 It was hard to say goodbye to our little mountain retreat. The girls were actually quite sad, so Tom pulled the car over on the way down the mountain and gathered some green acorns as souvenirs.

• How was your weekend?
• Do you ever get a surprise encounter with wildlife?
• Would you eat a paddle cactus?
Tags: Arizona, AZ, cabin, Cactus, camp, camping, daytrip, elk, family, hike, hiking, Hualapai, Hualapais, Kingman, mountains, retreat, trip, wild