Posted on November 5th, 2011 by Jean
Friday morning I was given the assignment by my soon-to-be 9 year old to create birthday party invitations for her to hand out THAT MORNING. No, I hadn't planned ahead. She'll have a handful of girlfriends over next Saturday, and I intend to just phone their parents. But, none the less, I was up to the challenge.

Step 1: Visit Dreamstime. This is my go-to source for graphics.


Step 2: Search for party invitations. You'll find a wide variety, from "free" to "you've got to be kidding me"!

Step 3: Buy a few credits and download your favorite image. I found this cute invitation for 3 credits (approx. $3.75).

Step 4: Edit in Photoshop. See notes below. When editing is done, choose Layers, Flatten Image to merge all layers into one.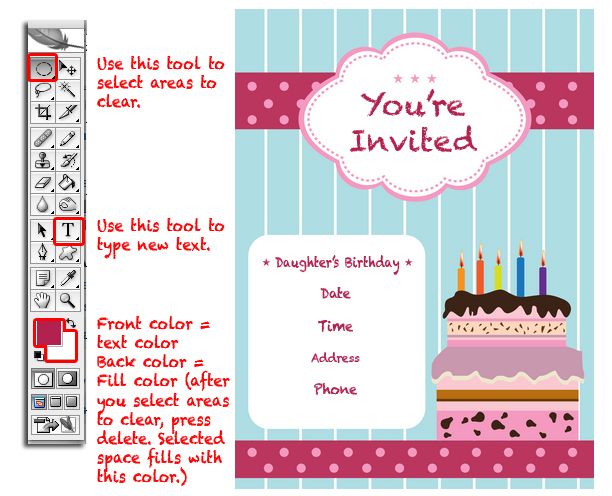 Step 5: Save & Print. I created a new, blank Photoshop page, 11×8.5 landscape orientation, and dragged (with my pointer tool) the invitation to it twice. Two invitations fit on one page. I used brochure paper (heavy stock with a nice finish).

Step 6: Cut. Remove the white border, and cut out the 2 invitations. Repeat as necessary.

For an in-depth tutorial on adding text, view my post Photoshop Tips V: Add Text to Photos.

• Do you have a go-to source for graphics?
• Store-bought or home-made invitations?
Tags: dreamstime, graphics, handmade, homemade, how to, invitations, party, Photoshop, tutorial