Posted on November 4th, 2010 by Jean
My husband, the great white hunter, ran off to Williams, Arizona to look for Bambi, leaving the kids and I to fend for ourselves this past Halloween. My sister, upon hearing the news, volunteered to help me out, understanding the difficulty of combining Trick-Or-Treating, photography and cocktails. If anyone could pull it off, it was she!

On Halloween Eve, we carved pumpkins. The kids were troopers, but their little arms were clearly challenged by the whole poking/carving shebang. It was Team Mom & Pearl against Team Aunt Sunny & Natalie. Pearl and I were slow & steady, never losing our focus.




Natalie changed her stencil three times before ever lifting a tool. She declared it "fun" when Aunt Sunny took over carving duty.




By the end, Team Pearl was victorious for finishing first, Natalie was crying, and Aunt Sunny was armed and semi-dangerous. (Don't hurt me, Aunt Sunny, for posting this picture!)




Fast forward to Halloween Night. The kids donned their super hero costumes and allowed me to staple the fake boots to their real shoes. Then we went Trick-Or-Treating at the casinos. Imagine entering the casino and filling your goody bags with chips. Nice! Ok, now wipe that image from your mind, and picture the reality. Ground level hotel rooms decorated in spider webs, black fabric, skeletons and ghouls. Hotel guests dressed in costumes handing out candy from their patios. Only in Laughlin?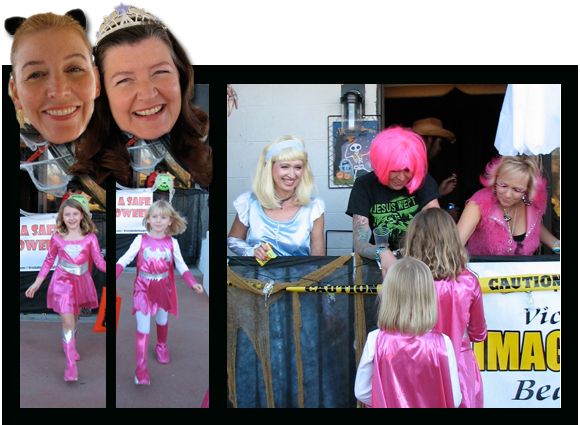 The kids hit most of the displays in a 45 minute span, filling their satchels half way. We hoofed it back to our car, conveniently parked at the tiniest casino on this strip, the Regency. What can I say? Parking is plentiful, and the gift shop gives treats.




Back across the river to Arizona, we headed to Chili's. The hostess handed us a "BOGO" coupon, allowing the kids to eat free. Apparently our server didn't get the memo because he tacked on the extra ten bucks. My sister's eagle eye spotted the discrepancy and saved the day. Look how else she saved the day, with refreshing margaritas.




Told you she could juggle it all.

• How was your Halloween?
• Is carving pumpkins overrated?
• What's the best thing you ever took away from a casino?

To view more photos of the Laughlin Halloween Safe Street, visit our business blog, Around The River Blogs.
Tags: Aunt, carving, casinos, Chili's, costumes, crazy, halloween, holiday, jack-o-lanterns, laughlin, margaritas, pay day, pumpkins, Regency, River, river walk, safe street, treat, trick, winner