Posted on October 1st, 2011 by Jean
There's not much I like more than being sucked into a reality show. I have a real addiction to mind-numbing reality t.v. I'll record my favorites when they're not on hiatus, like Project Runway, Flipping Out, Giuliana & Bill, Worst Cooks in America, RuPaul's Drag Race, Next Food Network Star, and Design Star.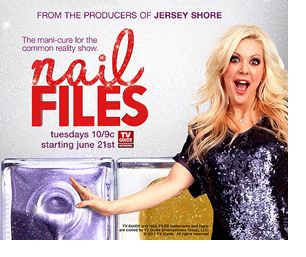 This week I caught three shows that were new to me. The first was Nail Files. Nail Files stars an entrepreneur, Katie Cazorla, as she builds her business, The Painted Nail, a boutique salon in southern California. As I tuned in, she was confronting a thieving employee and trying to fire her publicist all while launching her new line of nail polish. Her bubbly personality kept me enchanted whether she was greeting a celeb. who happened to stop by, or showing her fiance how to use his new Shark steam machine. I'm rooting for Katie to make it.

Nail Files airs on TVGuide Network. You can catch three episodes Sunday, October 9th at 11am EST.


The second show I caught was Sweet Genius. Oh my goodness, the host is a visual freak. I was distracted by how much eyeliner and mascara he was wearing. Then, when he opened his mouth, nothing but snobby remarks with a french accent emerged. Who's the genius? Why do we care?

Sweet Genius is hosted by Ron Ben-Israel. He dares the entrants to create a dessert with unusual required ingredients inspired by objects which in no way resemble or remind one of a dessert. For instance, using potato chips, brie and dragon fruit, remind us of a pair of high heels. No matter what is presented, he'll lift his bulbous nose and declare it unfit for human consumption. Yet, at the end, someone is crowned the Sweet Genius. Don't waste your time.

Sweet Genius airs on the Food Network Thursdays 10pm/9pm central.


The third reality show I caught was Lizard Lick Towing. One word: scripted. I hate the obvious script in reality shows. The key players are Amy, Ronnie and Bobby. We can just lump the guys into one because I really couldn't tell you who was who. Scene 1: Ronnie Bobby has to fly to Florida to repo. a boat because his scrawny little repo. friend can't attempt it on his own. As Ronnie Bobby arrives at the beach, little friend calls and requests immediate help. Ronnie Bobby putt around on a boat for about an hour before spotting the delinquent boat owner. Cutting to the chase, Ronnie Bobbie leaps from a jet ski into the boat and tosses the driver overboard. Unbelievable. Meanwhile Amy is being yelled at by a couple whose car was towed at a company party. Her water breaks (did I mention she was pregnant?), and the verbally abusive couple apologizes and calls her an ambulance. Ronny Bobby catches the next flight home in time to kiss his new baby girl, Maggie May "Magpie" atop her scrumptious little head. Total waste of time.

Lizard Lick airs on TruTV Mondays at 9:30pm EST.

• Have you been sucked into Reality TV?
• Name a favorite and least-favorite reality show.
• Would you give any of these three shows a chance?
Tags: food network, Katie, lizard towing, mind numbing, nails, reality, review, scripted, television, tv