Posted on October 27th, 2013 by Jean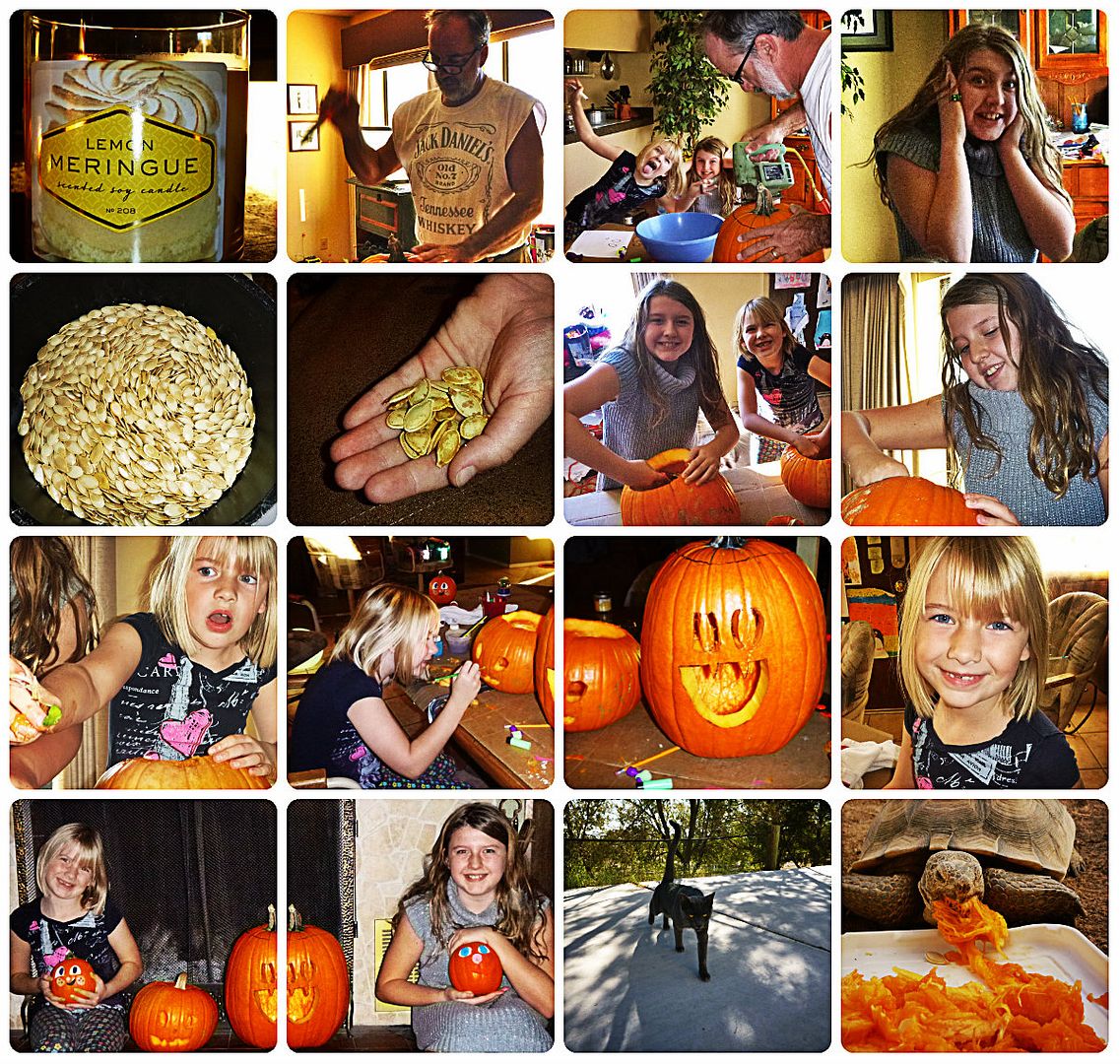 We finished a long week of work, and promptly got into Halloween mode. First stop was Target for pumpkin carving kits and a lovely lemon meringue scented candle. Then we stopped at Smith's for pumpkins.
Tom cut openings in the tops of the pumpkins with a knife and a power tool. It was a little loud for the kids. When the smoke cleared, the girls dug in to remove the seeds. Pearl found three seeds that had sprouted, and we planted them outside. I rinsed the remaining seeds, then boiled them briefly in salted water prior to baking. They turned out great!
We fed the pumpkin pulp to one of our desert tortoises. He seemed to like it. I love the pic of him, and uploaded it to CNN iReport Weekend Express. We'll see if it airs.
This is the first year that the girls didn't require or ask for any help carving their pumpkins! Big achievement; I'm marking my calendar. Their pumpkins turned out darling, if I do say so myself.
We just found out that the casinos are NOT hosting the Trick-or-Treat event this year. Big bummer. Tom has a plan to drive the kids to a nice area of town and ::: gulp! ::: let them go door to door! We were just talking about this over at Ron's blog (visit him, he's great).
On another light note, a Fall Festival was held at the kids' school Saturday night. I was working, but Tom brought the girls. Not only did they have a fantastic time, but Pearl won first place for Most Creative Costume!
• What are your Halloween traditions?
• Did you go to or host any costume parties over the weekend?
Tags: fun, halloween, jack-o-lanterns, kids, photoblog, pumpkins, tortoises