Posted on May 15th, 2011 by Jean
I've lost 3 lbs. in 3 days, and this is what I've learned so far.

The SparkPeople Diet Tracker App is awesome! Download it, tell it your current weight, your goal weight, and go. It's easy to track your calories burned and consumed. Sparkpeople is also online. I just signed in and was surprised to see that all of my input from the phone app was already updated online. So when your kids steal your phone to play Angry Birds, you can still update your records.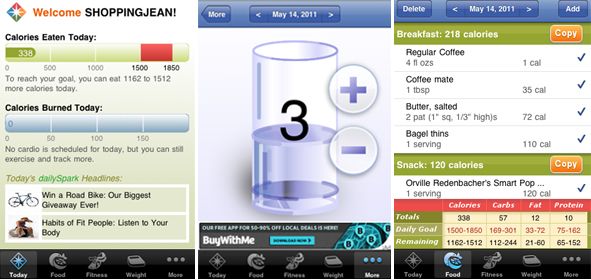 (Screenshots left to right: Calories Eaten/Burned, Glasses of Water Consumed, and Food Eaten.)

If you buy Orville Redenbacher's 100 Calorie Smart Pop, you'd better buy extra popcorn for your family. The first three packets I nuked were confiscated by my daughters and husband. When I finally was able to eat my share in peace, I found it to be very tasty especially with a sprinkling of chili powder, cumin and garlic salt.



Thomas' 110 calorie whole wheat bagel thins are fairly good. They're chewy, filling, and not terrible. Hubby won't eat them again even though I topped his with butter and cream cheese. Other flavors include plain, raisin, and "everything" (with onion, sesame and poppy seeds).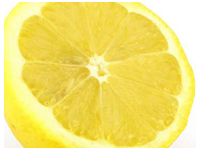 Freshness is key. A slice of fresh lemon in my water puts me in the right frame of mind. The color, scent, and flavor say "healthy" to me. Adding a slice of fresh cucumber to your water is a treat I learned from the salon at Mandalay Bay. Fresh cilantro in my salad adds a burst of flavor and really livens the greens.


What products do you turn to when you want to lose a few pounds?
Tags: aids, app, bagels, calorie, cilantro, counter, diet, family, health, iphone, lbs, lemon, popcorn, pounds, products, slim, sparkpeople, summer, Tips, waistline